It's sad to see a host racer like Andrea Dovizioso only finishing 20th in the Italian MotoGP race at the Mugello Circuit on Sunday (30/05/2022).
Andrea Dovizioso is 30 seconds behind Pecco Bagnaia who is the winner of the Italian MotoGP. Even though the RNF Yamaha racer had finished first at Mugello, in 2017.
"This does not happen in all the free practice and the race itself, my struggle is so hard," continued the former Ducati racer.
Difficulty Conquering Yamaha Motorcycles
Andrea Dovizioso's problem is still the same: difficulty conquering the Yamaha YZR-M1. His stop and go style of racing worked very well at Ducati but not at Yamaha.
Because I saw Darryn Binder san Fraco Morbidelli, they are fast in the middle of the corner," Andrea Dovizioso analysis.
"In that sector, Yamaha riders try to get fast time. The problem is when I try it, I am very slow. I am not good at doing it," he continued.
Moving to Aprilia?
RNF itself has confirmed that it will no longer have the status of a Yamaha satellite team in MotoGP 2023. Instead, they will use the Aprilia RS-GP motorbike.
Andrea Dovizioso had tried the Aprilia motorbike before deciding to join RNF. Is this an indication that the racer will try his luck again in MotoGP 2023 with RNF Aprilia?
Andrea Dovizioso insists that if he continues to perform poorly as he is now, he has no reason to continue next season.
Retirement Only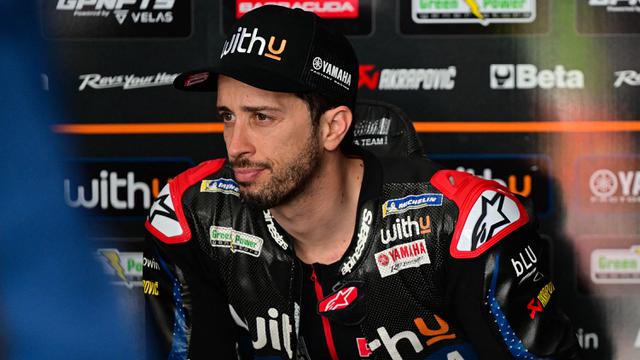 Andrea Dovizioso is not a new name in MotoGP. During his debut season in 2008, he has traveled to various MotoGP teams, such as Honda, Yamaha and Ducati. His best period was from 2017 to 2019. Currently, Dovi is a member of the WithU Yamaha RNF team.
"Right now I don't see a reason why I'm going to race. I mean, I don't like being in this condition, in this situation," said Dovizioso.
"I've always said if I wasn't competitive, I wouldn't be in MotoGP. So at the moment I really don't think about this. It's not a factory problem (Yamaha or Aprilia)," he continued.
Follow in the footsteps of Valentino Rossi
If he had to retire from the 2022 MotoGP, Andrea Dovizioso would follow in the footsteps of Valentino Rossi.
Valentino Rossi left MotoGP 2021 because he failed to be competitive with Petronas Yamaha SRT. Now this RNF is a Yamaha satellite team that replaces the name Petronas SRT.
In fact, like Rossi, Andrea Dovizioso also had difficulty conquering the Yamaha YZR-M1 at the end of his career.
https://hirupmejiteuy.blogspot.com/2022/05/todays-latest-advanced-technology_84.html
https://hirupmejiteuy.blogspot.com/2022/05/todays-latest-advanced-technology_34.html
https://hirupmejiteuy.blogspot.com/2022/05/todays-latest-advanced-technology_86.html
https://hirupmejiteuy.blogspot.com/2022/05/todays-latest-advanced-technology_17.html
https://hirupmejiteuy.blogspot.com/2022/05/todays-latest-advanced-technology_31.html