In A Video Released By Vogue Korea Recently, Beomgyu Shared That The TXT Dorm Doorbell Always Rings In The Middle Of The Night. He Also Revealed The Reason.
When thinking about the funny moments the group has had for a year, TXT's Beomgyu couldn't help but talk about their dorm. He shared the reason why their dorm bell always rings in the middle of the night.
Although Beomgyu was ready to enjoy some peace and quiet after their long days, he revealed that there was one sound he couldn't escape, even from his own room.
In a video released recently by Vogue Korea, Beomgyu said, "When I lay on my bed, the doorbell rang constantly." There's a funny reason for the annoyance.
After a hard day's work, the TXT members just wanted to sit back and pamper themselves. Beomgyu explained, "We often order late-night snacks when we get home from work."
In fact, they treat themselves to several food deliveries in one night. They get food from every category. "This time it's meat. Next time, ice cream. Then another dessert," he said.
The members ordered so much food that even Beomgyu couldn't keep track of what happened. He shared the question that has always been on his mind, "'Who is it this time?' I asked."
Beomgyu admits that delivery can be useful, especially when they prepare special ones for each other. But the risk, their dormitory bell will always ring in the middle of the night.
Fans don't have to worry about TXT getting unwanted diners or missing any food. Now it makes sense why they post food on Weverse so often.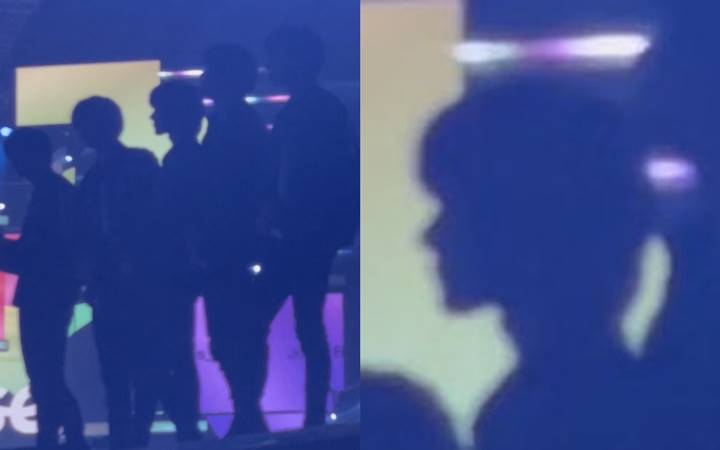 This Is How Beomgyu TXT's Silhouette Was Caught On Camera, Too Perfect
It's So Perfect, Beomgyu TXT's Visual Which Only Looks Like A Silhouette Or Shadow In The Dark Has Made Fans Excited. Here's The Photo!
There is no doubt how the visual power of the TXT members managed to amaze their fans. One of them is Beomgyu who invites admiration once again because of his charming visuals.
Since debut, Beomgyu who is a member of the TOMORROW X TOGETHER (TXT) members is considered one of the top visuals of the 4th generation of K-Pop idols. Therefore, he is loved by many fans for his flawless visuals.
Even recently when TXT together with other HYBE artists held a year-end concert titled Weverse Con 2021, Beomgyu's figure stole the attention. Based on fan catches, Beomgyu has a perfect shadow or silhouette and this makes fans think whether he is real or not.
Because it was so perfect, even though from a distance Beomgyu's image managed to steal the attention so that it became a warm conversation for his fans. In fact, Beomgyu is similar to one of the former members of " The Return of Superman " namely Bentley Hammington, who is already known for his handsome visuals even though he was young.
"How can someone's image be this perfect? ​​Choi Beomgyu's visuals are tops!" fan comments. "When Beomgyu's shadow is prettier than you," wrote another comment. His personality is also very beautiful. So sweet/romantic, funny and fun. That's why he is my bias in TXT <3," wrote a fan comment.
"Beomgyu's silhouette alone is perfect. How about meeting the real thing?" other comments. "That's probably Ben, a clone of Beomgyu," wrote another. "Strange but true, Beomgyu has very sharp visuals," wrote another.
Meanwhile, while on the Weverse Con 2021 stage, it was discovered that TXT performed their hit songs such as "Loser=Lover", "Magic", and many more. At this concert, Yeonjun also wowed his fans through his collaboration with ENHYPEN on the song "Blockbuster".