Hyungsik's Character In 'Happiness' Who Is Known As A Bucin Husband Expressed His Feelings Sincerely For Han Hyo Joo In The Latest Episode Of This Drama. Take A Peek At The Following Snippet.
The tvN drama " Happiness " has aired its latest episode on Friday (10/12) last night. One of the most attention-grabbing scenes from this episode is Jung Yi Hyun's ( Hyungsik ) love confession to Yoon Sae Bom ( Han Hyo Joo ).
In episode 11, Jung Yi Hyun finally turned into a zombie after being infected with a madman's disease. Before that, he managed to send Yoon Sae Bom out of the apartment while protecting her from assassins.
But before that happened, Jung Yi Hyun had recorded a video to express his feelings for Yoon Sae Bom. It was a simple but sweet video he shot in his apartment.
Jung Yi Hyun said, "Surprise! Hello, Sae Bom. Sorry I never proposed to you properly. At that time, I seemed to agree (to marry) because of the (discounted) apartment, right? That's not true."
He continued, "I keep saying I like you. If you misunderstand. I'm not that easy guy. Getting an apartment is important, but who you live with is more important. Right?"
In the middle of the video, little Park Seo Yoon suddenly appears and asks, "Ahjussi, what are you doing?". Detective Kim Jung Kook who was next to him chimed in, "Seo Yoon, pretend you don't see that. He's blinded by love. Pretend he's invisible."
After Park Seo Yoon and detective Kim Jung Kook left, Jung Yi Hyun expressed his hopes. She said, "I wish we could go out and watch this video together. If that happens, I'll be rightly saying that I like you."
Besides Jung Yi Hyun, this episode also featured Yoon Sae Bom's love confession. That's why viewers are increasingly hoping that the two will get back together and live a happy life like a husband and wife in general.
Meanwhile, the slot for "Happiness" will be replaced with " Bad and Crazy ". The plan, the drama starring Lee Dong-wook will start airing on December 17th.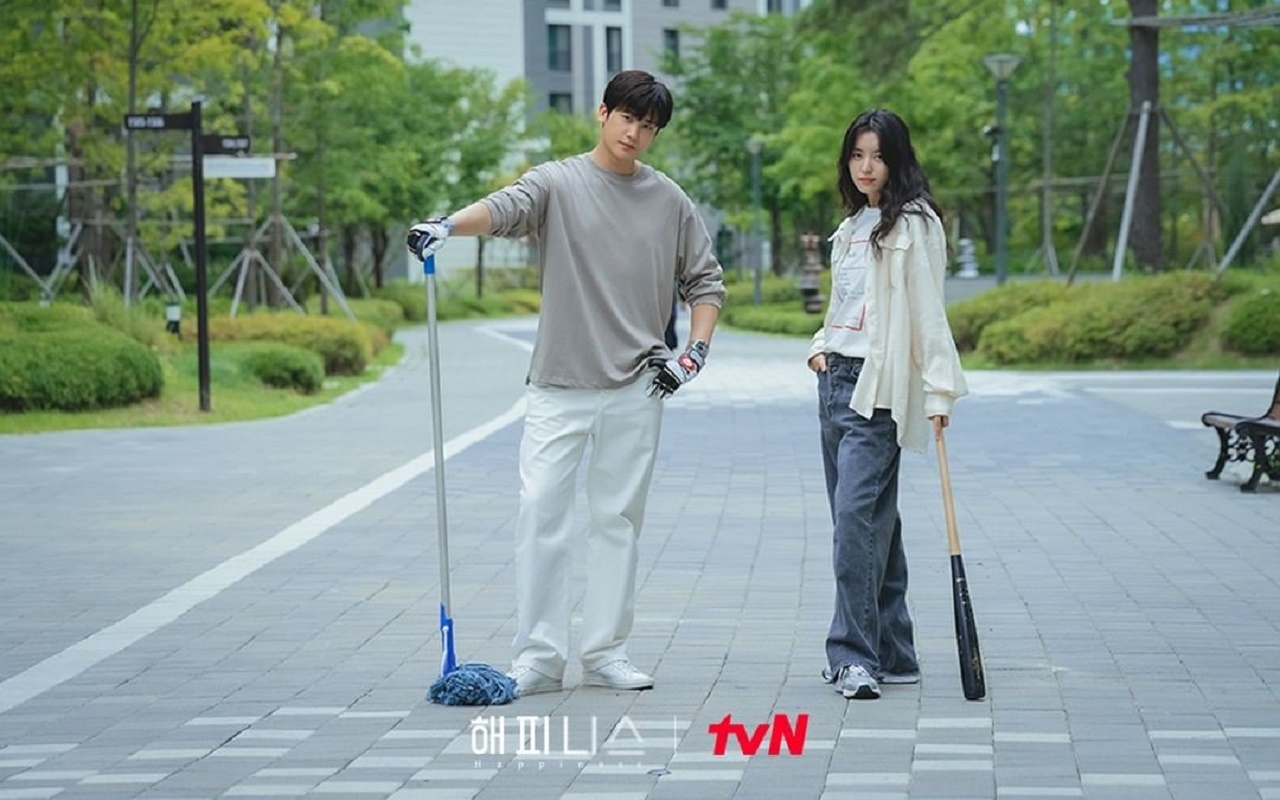 Coming To An End, 'Happiness' Will Present Season 2?
In The Midst Of High Demand For The Production Of 'Happiness' Season 2, Drama Representatives Finally Gave The Final Answer . What Is The Narrative Like?
The tvN drama " Happiness " only leaves two final episodes and will end on Saturday (11/12). Towards the end, there were many fans who wondered if this drama would continue into season 2.
As is known, "Happiness" tells the story of people's struggles while surviving in the midst of a mysterious disease outbreak. Those who are infected by this disease will act like zombies.
Because of the interesting storyline coupled with the presence of star players such as Han Hyo Joo and Hyungsik , this drama often reaps praise. That's why not a few fans hope that the production team is pleased to present season 2.
The representative said, "We never discussed or planned a second season. The drama will end in its 12th episode as planned."
Meanwhile, the storyline in the latest episode of "Happiness" has succeeded in making viewers anxious. Because Jung Yi Hyun (Hyungsik) showed signs of being infected with a madman's disease after being attacked by one of his neighbors.
He even plans to send Yoon Sae Bom (Han Hyo Joo) and Park Seo Yoon ( Song Ji Woo ) out of the apartment before his condition worsens. That way, he could prevent them from getting infected.
On the other hand, Yoon Sae Bom began to notice Jung Yi Hyun's suspicious behavior even though he was not informed. That's why viewers are looking forward to what action he will take in the next episode.
Unfortunately, the production team of "Happiness" has confirmed that they will not be presenting a new season for this drama. This announcement was made by a representative of "Happiness" to media outlet DongA.