Mark GOT7 Released A Teaser For The MV For His New Song Entitled 'Last Breath'. In The Teaser, Mark Experiences A Terrible Phenomenon Like This.
On Saturday (30/10), Mark Tuan GOT7 shared some interesting snippets for his new song "Last Breath". The release of this teaser was immediately greeted enthusiastically by fans who were really looking forward to the 28-year-old idol's solo song.
In the MV teaser, Mark experiences a terrible phenomenon while in an old and rundown toilet alone. At its peak, he seemed to hit the mirror with his bare hands until it broke.
Not long ago Mark also shared some pretty mysterious teaser photos. In the first photo, Mark shows a serious look while sitting on the sofa alone, while the second photo shows a quiet atmosphere at a gas station.
The last two photos show a pretty dire situation. Because Mark looked so desperate that he finally drowned himself in the bathtub.
After being released, this teaser was immediately greeted enthusiastically by fans. They even trended the topic "LastBreath_Mark Tuan" on Twitter.
"Mark's comeback will shake the world. I'm ready to look forward to his new music," added another fan.
"Another masterpiece to come. Mark Master, cheers!" another fan said. "Everyone agrees that Mark has melted everyone's heart with his comeback," said another.
"Mark Tuan showed us that he can show more than just a handsome image that his old agency tried to lock. I'm glad he can show talent and express himself freely," concluded another fan.
Before that, make sure to monitor the news updates .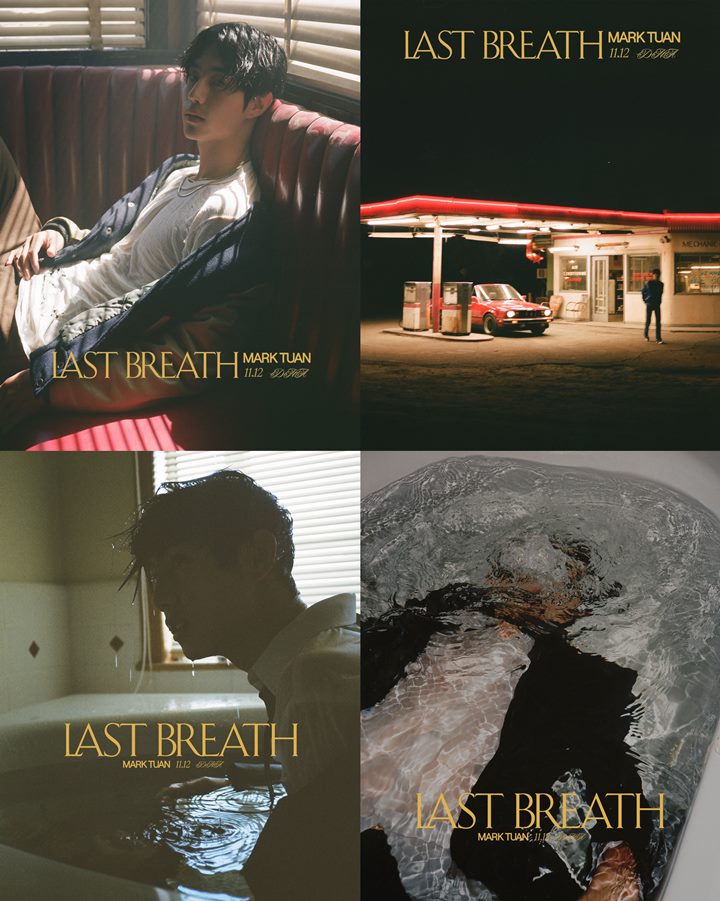 GOT7'S Mark Hints At The Release Of A New Single After Making Fans Worried About Deleting Instagram Photos
GOT7'S Mark Had Made His Fans Worried Because He Suddenly Deleted All The Uploads On His Instagram Without Any Residue. But Now It Seems The Idol Is Preparing Something For His Fans.
Recently, Mark Tuan GOT7 has worried his fans because he suddenly deleted all photo uploads on his Instagram. After being noticed by fans, Mark also uploaded a short message that was disturbing only with a black screen.
It is suspected that Mark is currently preparing his latest single entitled "Last Breath". This is of course something interesting to know considering that this one idol was discussed due to his missing photo uploads.
Like the experience of artists who have been, usually if you delete an upload on Instagram, it means that something is not right. It seems that Mark is slowly making his point to fans.
Based on his upload, Mark will release "Last Breath" in November. So far, the singer has not revealed more specific details, such as what language might be used in his new song given that Mark has now returned to his hometown in the United States.
On the other hand, previously Mark released the solo singles "Outta My Head" and "Never Told You" in China while promoting with GOT7. Then earlier this year, he surprised fans by participating in the Marvel movie " Shang Chi and the Legend of the Ten Rings " with BIBI titled "Never Gonna Come Down".
Now, many fans are waiting for Mark's first English single through "Last Breath". This will certainly be something fun because this idol managed to attract the attention and curiosity of his fans.
Meanwhile, based on his latest upload "Last Breath" will be released on November 12. However, he has not spoken about the details of his new song which will be coming soon. In addition, Mark also has no further confirmation officially and definitely why Mark deleted the upload on his Instagram in addition to releasing a new song.
Awesome Mark GOT7 Delete Photos On Instagram, Make Uploads Worrying
Surprisingly, Mark GOT7 Is Known To Delete Posts On His Instagram Without Any Residue And Create Instagram Stories With A Black Background That Invites Concern.
Celebrity lives are often in the spotlight whenever there is a noticeable change or behavior. Like one of the changes shown by Mark Tuan GOT7 who surprisingly deleted all photos on his Instagram.
On Tuesday (19/10), Mark's original Instagram story upload surprised his fans. It was recently revealed that Mark has deleted all photos uploaded on his Instagram feed without any trace.
Not only that, Mark then uploaded an Instagram story that could be lost in just 24 hours with a short text. "I tried my best, can't you tell?" wrote Mark's short message that made his fans even more curious and worried.
The incident of deleting all photo uploads is not a new thing for Instagram users, but for artists it has become a hot spot and conversation. With Mark's decision to delete his photo uploads, many fans gave rise to various speculations, both negative and positive.
Some fans took their concerns to Twitter to express the opinion that this was just Mark's way of hinting at an upcoming album release. Meanwhile, other fans gave support and tried to signal for other GOT7 members because they were worried that Mark would go through other personal problems.
"What is going on???? Why did Mark delete all his posts on IG and drop this line. Who hurt him?" fan comments. "I feel worried to see this. Are you okay? What happened to Mark? Why look sad? Are you making spoilers? Why should you delete all your photos on Instagram? This is all my concern," another netizen commented.
"People just found out that Mark deleted his photo? This was also done by Yugyeom on his comeback, guys, don't worry," another fan commented.