Kim Woo Bin Shared A New Post On Instagram, Where He Appears To Be Filming A Product Commercial. The Staff Caught On Camera Attract More Attention For Some Reason.
Kim Woo Bin is attracting attention because of his latest post on Instagram. Netizens believe that Shin Min A's lover has a very good personality.
On October 25, Kim Woo Bin shared a new post on Instagram. In the photo, he seems to be shooting a product advertisement. Kim Woo Bin looks straight at the camera and makes a funny expression using chopsticks.
In particular, Kim Woo Bin attracted attention by blurring the faces of the staff next to him.
In South Korea, non-celebrities should not be exposed to the public. So if caught on camera, their face should be blurred when the photo is posted. Kim Woo Bin was praised for treating non-celebs well by respecting their rights.
Meanwhile, Kim Woo Bin's film "Alien" will be released soon. The handsome actor is also scheduled to return to the small screen with the drama " Our Blues ". The other lineup is Lee Byung Hun , Cha Seung Won , Lee Jung Eun , Uhm Jung Hwa , Han Ji Min and his girlfriend, Shin Min A.
"Our Blues" is an omnibus-style drama that tells the sweet, sour, and bitter life stories of various characters in the living setting of Jeju Island. The scriptwriter behind it is Noh Hee Kyung of " That Winter, The Wind Blows ", " It's Okay, That's Love ", " Dear My Friends ", " Live " and more.
The story, starring Kim Woo Bin, tells the story of Lee Young Ok (Han Ji Min), who moved to Jeju Island, and has been a haenyeo (female diver) for the past year. Young Ok is a smart woman, but many rumors follow her.
Young Ok then meets Park Jung Joon (Kim Woo Bin), who is a ship captain. He is a man with a warm heart and looking for a woman who will not leave Jeju. Jung Joon falls in love with Lee Young Ok.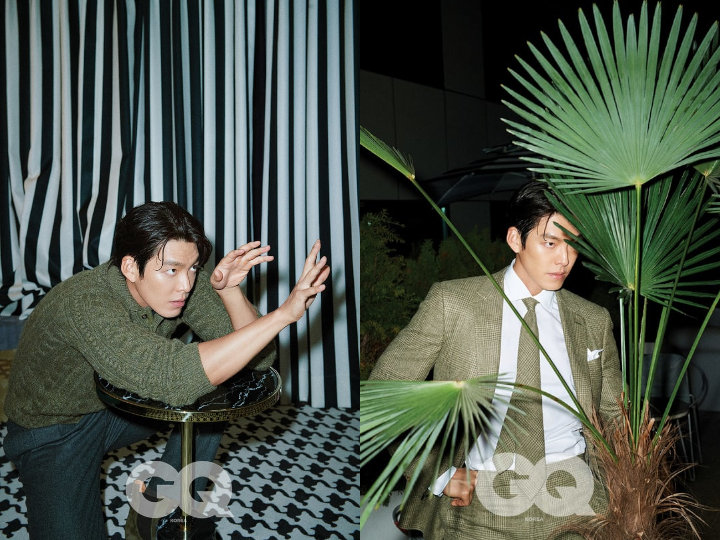 Kim Woo Bin Admits That He Used To Live Without Meaning, Now He Is Grateful Every Day
Kim Woo Bin exudes charisma in his new photoshoot for GQ Korea magazine. In the interview that accompanied the photo shoot, Shin Min A's lover revealed how grateful he was.
On September 27, GQ Korea released a fall photo featuring Kim Woo Bin with Purple Label Ralph Lauren. Through his interview, the actor shared, "In the past, I spent a lot of time meaninglessly."
"Lately, I'm focused on the present, and I'm trying to open my heart to other people more. Every day when I end my day, I think, 'Even if I came back this morning, I don't think I could live any more. better than me today,'" he said.
Kim Woo Bin chose the phrase "Thank you" as the expression he likes the most, revealing that he writes what he is grateful for in his journal every day. I'm grateful for."
The way Kim Woo Bin took things more slowly also affected his acting career. He revealed, "In the past, I said that I wanted to be 40 years old like that out of habit. 40 year old male actors generally look really cool. Now, I like the present time. 33. It is neither too much nor too little age. , so I think I can do something new diligently."