After Nine Episodes, BLACKPINK's Jisoo's Acting Skills In 'Snowdrop' Made Viewers Show Positive Reactions. Previously, Jung Hae In's Co-Star In This Drama Was Heavily Criticized.
While " Snowdrop " is still overshadowed by controversy, Jisoo BLACKPINK's ( Black Pink ) acting ability is always in the spotlight. As is known, the drama, starring Jisoo and Jung Hae In, was busy protesting because of the historical distortion controversy.
Playing the role of Eun Young Ro, Jisoo who immediately got the female lead role in her debut drama continues to receive reviews from viewers. Even though it was criticized, as soon as 9 episodes went the public's view of Jisoo's acting turned around. Now the owner of the name Kim Ji Soo is considered to have great potential because even though he competes in acting with famous actors, he does not dim at all.
In online forums, Jisoo's on point expressions and acting are being talked about. Not only visuals, Jisoo has many expressions when playing Eun Young Ro both as a student in casual situations and someone whose life is in danger.
I was afraid she would be scolded for her acting, but now that I see how much effort she put into the role of Young Ro, I'm proud," commented one viewer.
Some viewers discussed how Jisoo's appearance was different when she was on stage and the drama where the actress's beauty was not "disappointing". They were even mesmerized by Jisoo's beauty when she was crying or showing her bare face.
"As Hae In said, Jisoo has very beautiful eyes. Considering the fact that this is the first time she is the main character, her acting is good," said another netizen. Her acting is also not bad," continued another netizen.
In addition, there are also viewers who give high ratings for Jisoo's acting as a beginner. According to them, it's impossible to get veteran-style acting for his debut where his skills aren't as bad as the anti-fans say. So that viewers hope that Jisoo shows good development in the future in order to get the recognition she deserves as an actress.
Meanwhile, "Snowdrop" which tells about the love story of Eun Young Ro and Im Su Ho (Jung Hae In) with the background of Seoul in 1987 can be watched every weekend. This drama airs every Saturday and Sunday at 22.30 local time.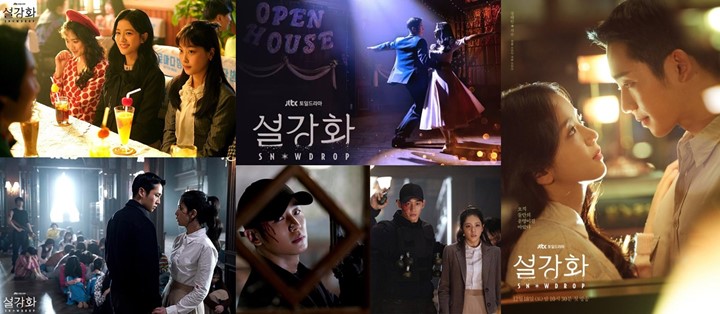 Expected To Be A Romantic Drama, Sad Flow 'Snowdrop' Reaps The Spotlight
'Snowdrop', Which Was Originally Thought To Be A Romantic Drama, Has So Far Shown More Heart-Wrenching Scenes. Check Out The Full Explanation Below.
At the beginning of the promotion, " Snowdrop " was predicted to be a thrilling romantic drama. The reason is, posters to photos of scenes from the characters Jisoo BLACKPINK ( Black Pink ) and Jung Hae In ) are always pleasing to the eye.
The couple's first poster shows the incredible chemistry of Jisoo and Jung Hae In. Therefore, fans hope that the two of them will have many heart-fluttering intimate and romantic moments.
The first two episodes of "Snowdrop" were quite enjoyable, because they presented many sweet moments between Eun Yeong Ro (Jisoo) and Lim Soo Ho (Jung Hae In). They meet on a blind date and share many fond memories of when Yeong Ro hid Soo Ho in the dorm.
However, from episodes 3 to 9, this drama often makes viewers feel hurt because of its sad plot. The sad story of "Snowdrop" began when Eun Yeong Ro was suddenly pointed at a gun by Lim Soo Ho, the man he loved and saved, who was eventually revealed to be a North Korean spy.
Eun Yeong Ro's misery comes to a head when he hears the news that his older brother was killed in a shootout against North Korean spies. Not finished grieving, Yeong Ro suddenly heard that his father was planning to kill all his friends who were hostages of Lim Soo Ho cs.
In fact, their only hug was in episode 9 when Yeong Ro tried to trick Soo Ho into taking the detonator. So even though it looks romantic, this scene is actually quite heartbreaking.
Since so far "Snowdrop" has mostly sad scenes, fans hope that the writer will show more sweet moments between Yeong Ro and Soo Ho. Fans also hope that their love story has a happy ending even though the possibility is quite small.
Now, the drama, which also stars Jung Hae In, is getting a lot of praise because it is considered to have an interesting storyline.