During The Second Season Of The TvN Variety Show 'The Sixth Sense', Lee Sang Yeob Was Known To Have So Sweet Chemistry With Rapper Jessi That The Two Were Prayed For In Real Life.
The chemistry built by Lee Sang Yeob and Jessi ( Jessica Ho ) in the second season of the variety show " The Sixth Sense " proved to be a huge success. Not a few viewers who watched it were carried away by their sweet and funny interactions.
Even though the second season of "The Sixth Sense" has ended, it seems that viewers who follow the daily lives of these two celebrities are still expecting something more detached on the shooting show. Many netizens and fans both pray that the two are really dating in the real world because they are considered suitable.
This desire returned again when Lee Sang Yeob uploaded his latest photo on Instagram. On Tuesday (26/10), Lee Sang Yeob wrote a caption on his latest photo that caught the attention of his followers.
At some point, there are no photos of myself in my cellphone photo album. I think it's because no one is watching me, interested in me and taking photos of me. So I need a selfie, wrote Lee Sang Yeob expressing his anxiety.
In particular, in the photo Lee Sang Yeob seems to have a thin beard and a natural appearance that does not change his handsome appeal. Seeing Lee Sang Yeob's anxiety, who indirectly expressed his loneliness, his followers also gave encouragement to this actor.
Oppa, you are not alone. We are here for you, are you missing someone? netizen comments. Sang Yeob misses Jessi, I think, wrote a fan comment. I don't know why your Instagram caption looks like someone is coding. Who is it, maybe Jessi, hihi, another netizen commented.
Many people love you, oppa. It's okay, Oppa. You're a jojoba, single, happy single, said netizens. He suddenly became mellow, wrote another netizen comment.
Meanwhile, although many have matched Lee Sang Yeob with Jessi, the female rapper has confirmed that it is a part that is arranged to show each other chemistry while being a member of tvN's "The Sixth Sense". Currently, Lee Sang Yeob seems to be still looking for a suitable partner for him.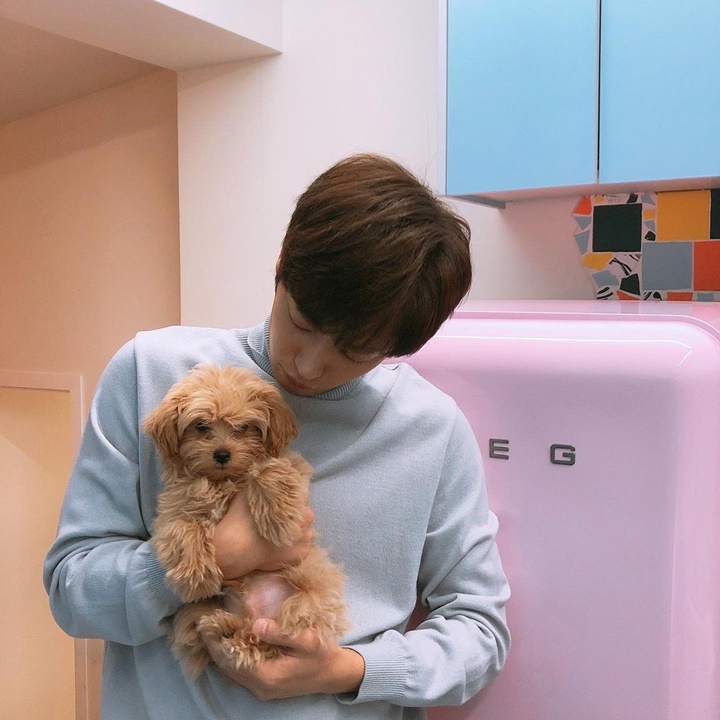 A Series Of Youthful Charms Of Lee Sang Yeob, Jessi's 'Girlfriend' In 'The Sixth Sense'
Lee Sang Yeob Has An Interesting Love Line In The Program "The Sixth Sense" Season 2 With Jessi. The Handsome Actor Born In 1983 Is Known To Have Youthful And Charming Visuals. Let's See A Series Of Portraits Of Lee Sang Yeob Who Refuses To Be Old.
Lee Sang Yeob and Jessica Ho or who are familiarly called Jessi have an interesting love line in the program " The Sixth Sense " season 2. Because they often show interest in each other like people who are dating. The beautiful rapper did not even hesitate to "bump" other female members who approached Lee Sang Yeob and often referred to the handsome actor as a girlfriend. Many fans hope that the two are dating in real life.
Lee Sang Yeob himself is indeed known as an actor full of charisma and charming. He also has a youthful charm. Even though he is almost in his fourth head, Lee Sang Yeob's visuals seem unchanged since he first appeared on the small screen. Do not believe? Have a peek here!
1. Don't Hesitate To Act Cute
Lee Sang Yeob does not hesitate to act cute when entertaining viewers. He then posed cute flower petals like in the portrait above. Lee Sang Yeob has succeeded in making fans endlessly praising his cute face.
2. Flawless At 38 Years Old
Lee Sang Yeob turned 38 years old. However, her face is youthful and flawless like her 20s. The star of the drama " On the Verge of Insanity " has become one of the actors who are touted as ahjussi rasa oppa. What do you think?
3. Have An Alluring Smile
Lee Sang Yeob has a bright smile that captivates hearts. The Taurus zodiac actor is charming when he smiles like this moment. His good looks are doubled. You agree?
4. Adorable With Glasses
Lee Sang Yeob looks different by wearing round frame clear lens glasses. The star of the drama " Love Affairs in the Afternoon " looks even more cute and adorable. Not only that, Lee Sang Yeob also displays puppy eyes that make fans fall in love even more.
5. Wear OOTD Stylish Anti- Flop
Style Lee Sang Yeob impressed casual and simple but anti flop . The star of the drama " Jang Ok-jung Living by Love " wore a gray shirt combined with an army jacket, jeans and white shoes. Lee Sang Yeob then posed elegantly by crossing one leg up. He seemed to be busy reading the script.
6. Don't Hesitate To Act Cute
Lee Sang Yeob didn't hesitate to act cute and put on a smug expression. The star of the movie " The Villagers " looks more adorable and youthful. Without explanation, fans were confused about what made the actor who collided with Song Joong Ki in the drama " The Innocent Man " put on a pouting pose as if sulking. But Lee Sang Yeob's cuteness still makes them crazy.
7. Loving Figure
Lee Sang Yeob is a kind person who loves animals. As in this moment, he seems to be showing intimacy with a dog. Lee Sang Yeob gently held the brown fur animal in his arms. Handsome and loving, what woman would not fall in love with?