JBTC Has Just Released The Prologue MV For 'Snowdrop' Featuring Jung Hae In And BLACKPINK's Jisoo. For The Sweet Scenes And Beautiful Songs, This Is The Reaction Of Fans.
Welcoming the premiere of " Snowdrop " which is getting closer, JTBC released its latest teaser. Although it was controversial, the drama, starring Jisoo BLACKPINK ( Black Pink ) and Jung Hae In, is ready to greet viewers in December.
Set in 1987 Seoul, "Snowdrop" tells the emotional romance between college students Su Ho (Jung Hae In) and Young Ro (Ji Soo). Su Ho's sudden appearance in the female university dormitory bleeding prompted Young Ro to help and treat his wounds secretly.
JTBC released the prologue MV "Snowdrop" on Naver and quickly caught the attention of viewers. The video shows the sweet scenes of Young Ro and Su Ho. Sitting together in a room, they were accompanied by the song "Because I Love You" which was then interrupted by the voice of the radio announcer.
No doubt the "Snowdrop" prologue MV stole the attention of fans immediately because of the choice of songs as well as what was displayed there. Even the original video is currently ranked 9th on Naver TV's TOP 100. Netizens flooded the upload with praise for Jisoo and Jung Hae In's visual chemistry.
When the radio DJ's voice started both were very cute and adorable, said one netizen. If I watch 'Snowdrop' can I listen to a lot of songs in that era? This song that is playing sounds very good, continued another.
It's so cute kkkk, commented a netizen. Crying. 'Snowdrop' is the best, said another. Believe and watch the melodrama starring Haein. He and actress Jisoo look like a painting, the chemistry explodes. The spirit of 'Snowdrop', added another.
Although "Snowdrop" had sparked controversy, viewers are now getting impatient with the drama. Now that teaser after teaser has been released and adjustments have been made by JTBC, this drama has received a positive response from the public.
Meanwhile, "Snowdrop" will premiere on December 18. Replacing " Inspector Koo " this drama can later be watched every Saturday and Sunday at 22.30 local time.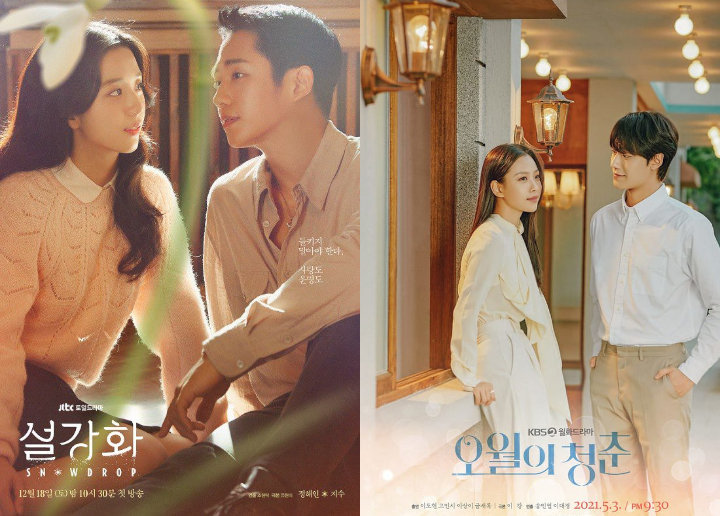 Jisoo BLACKPINK And Jung Hae In Are Expected To Have A Sad Ending In 'Snowdrop', This Is Why
The Release Of The New Poster 'Snowdrop' Was Met With Various Theories About The Sad Ending Of BLACKPINK's Jisoo And Jung Hae In's Characters. Check Out The Full Reasons Below.
The drama " Snowdrop " starring Jisoo BLACKPINK ( Black Pink ) and Jung Hae In is feared to have a sad ending . This concern was expressed by fans after JTBC released a new poster "Snowdrop" on Tuesday (9/11).
"Snowdrop" is a romantic drama that takes place in Seoul in 1987. The story focuses on the emotional love story of a pair of college students named Su Ho (Jung Hae In) and Young Ro (Jisoo).
Su Ho is described as an elite student who suddenly appears at the Women's University dormitory in a bloody state. He is then helped and hidden by Young Ro, who is one of the dormitory students.
In the latest "Snowdrop" poster, Young Ro is seen looking at Su Ho lovingly. However, Su Ho looked the other way with a worried expression.
That's why fans are wondering if Young Ro's feelings for Su Ho are one-sided, or whether their love story will be very challenging and difficult as the drama is introduced as "desperate love".
If the storyline of "Snowdrop" is similar to the tragic love story of the previous rebellion, it is likely that this drama will have a sad ending. One of the two main characters is even expected to die.
In addition, another detail of the poster focuses on the snowdrop flower which has multiple meanings. The flower branch pointed at Young Ro creating a half heart shape. Sadly, the snowdrop flower has also been a symbol of bad luck because it is referred to as a marker of misfortune and premature death.
That's why finally there are many theories that say that Young Ro or Su Ho will die in the end. And because of the trauma, one of them concludes the other is alive and well in imagination.
It doesn't stop there, the latest "Snowdrop" poster also has similarities to the " Youth of May " poster that aired on KBS. Because like the "Snowdrop" poster, Lee Do Hyun's character also looks at Go Min Si with love when the girl looks the other way.
Because "Youth of May" ended sadly with the death of Go Min Si's character, fans were worried that "Snowdrop" would have a similar ending. That's why they started making various comments like this:
I still can't forget the trauma of 'Youth of May', said one fan. But Jisoo will fit the sad role very well, added another fan. I don't care if it's sad, I still watch it for Jisoo! said another.
It looks like 'Snowdrop' will bring a lot of tears. This is Jisoo's first drama, why does it sound so tragic? said another fan. I think 'Snowdrop' does feel like it has a sad ending,concluded another fan.
Meanwhile, "Snowdrop" was created by writer Yoo Hyun Mi and director Jo Hyun Tak who previously worked together in the hit drama " SKY Castle ". The plan, the drama, which also stars Yoo In Na and Kim Hye Yoon , will start airing on December 18.