Super Junior's Yesung's Sweet Reaction When He Was Fed By His 'Wife' Nayoung On 'We Became A Family' Became The Focus Of Fans. Take A Peek At The Snippet Of The Moment Below.
Lim Nayoung ex IOI and Yesung Super Junior became one of the most adorable couple " We Became a Family ". The reason is, their awkward interaction actually looks sweet to make fans baper.
In the latest episode of "We Became a Family" which aired on Monday (12/13), the couple Yesung – Nayoung and Lee Daehwi – Kang Hye Won enjoyed an outdoor barbecue party. This party itself they held to celebrate the beginning of a new life as a "husband and wife" who live under one roof.
When Yesung spoke, Nayoung took the initiative to feed him a piece of meat. Because it was so sudden, Yesung became so shocked and laughed shyly that he covered his face with his fingers.
After successfully calming himself down, Yesung finally ate the meat happily. That's why Nayoung looks very satisfied to be able to please "husband".
After airing, this sweet moment immediately caught the attention of fans. Many of them were both excited and excited when they saw the sweet interaction of the uwu couple.
"Yesung is very funny when he is embarrassed because Nayoung feeds him. Haha I can't stop smiling because of it," said a fan. "Yesung and Nayoung are very adorable. I really like this couple. Thank you Nayoung for taking good care of Yesung," added another fan.
"I can't stop smiling when I see this. Yesung is very cute when he's shy," said another fan.
"Thank you Nayoung for making Yesung eat well. Yesung oppa, take good care of your wife because you are very compatible," wrote another fan. "Yesung is very funny. Look how embarrassed he is when Nayoung feeds him haha," said another.
"We can't help but be jealous to see Nayoung with Yesung. But in the end we were very happy when we saw you guys having fun. The awkwardness created very funny chemistry haha," concluded another fan.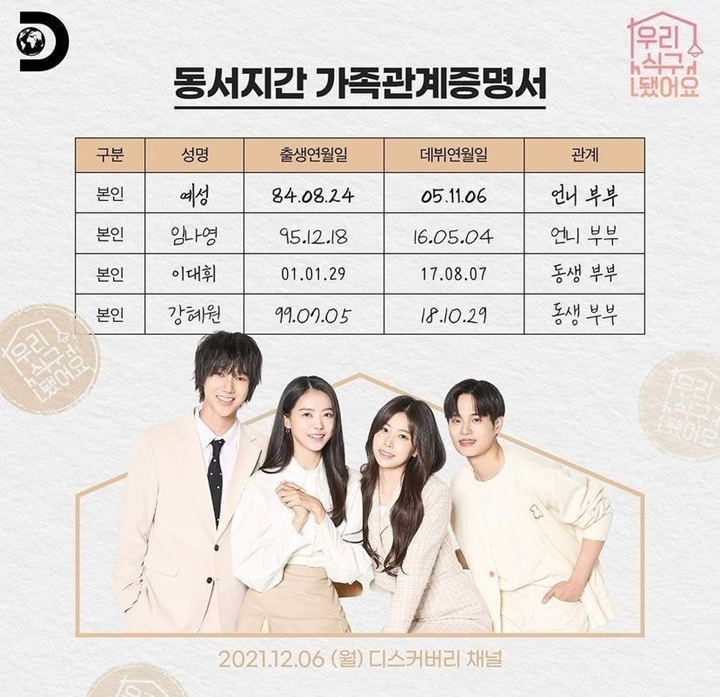 Married In 'We Became A Family', Yesung SuJu And Lim Nayoung's Age Gap Is Highlighted
A Family Reality Program, 'We Became A Family' Places Idol Stars In A New And Unique Family Setting Where They Get To Know Each Other And Form Bonds.
Super Junior's Yesung and Lim Nayoung were among those who took part in the " We Became a Family " program. The two idols were officially paired as virtual husband and wife after getting married on the latest program of Discovery Channel Korea.
A family reality program that brings together K-Pop idols from different generations, "We Became a Family" places idol stars in a new and unique family atmosphere where they get to know each other and form bonds.
The cast members are actually divided into three sub-groups. One sub-group consists of Yesung, Lim Na Young, AB6IX's Lee Dae Hwi and Kang Hye Won . The story is that Lim Na Young and Kang Hye Won have become brothers-in-law, living in the same house with their husband.
However, South Korean netizens began to highlight the age difference between Yesung and Lim Na Young. Yesung is known to be born in August 1984 and is 38 years old. Meanwhile, Lim Na Young was born in December 1995 and is 27 years old. This means that their age difference is 11 years.
"84 and 95? Are they serious?" wrote one netizen. "That's too weird", continued another. " concluded the other netizens.
On the other hand, Yesung had expressed the reason he agreed to take part in "We Became a Family". "I anticipate a new side of myself and the warmth that can be expressed when we become a family. International fans who can watch our program also played a big role in my decision to join," shared Yesung.
Meanwhile, Lim Nayoung said she was happy to be part of "We Became a Family".
Meanwhile, "We Became a Family" also shows a set of other stars including Son Ho Young , Yubin , Eunkwang BtoB , Hyunjae THE BOYZ , Xiaojun WayV , Hendery WayV, Yangyang WayV, and Kim Kang Hoon . Don't miss watching it.